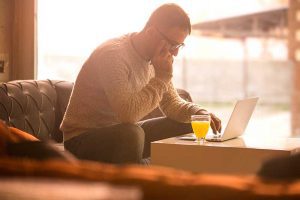 Does a blog actually make a difference for your business? This in itself is an interesting question and to answer it we need to look at the potential role it can play for your company and how that can then be turned into a useful tool that can link you with your current customers and potential future clients. Are you one of those people that feel that a blog, which is basically an online diary, is only limited to John Doe? Well, in all honesty you could not be more wrong if you tried.
Instead, you need to think more carefully about the role of the blog as there is more to it than just voicing your opinion about a certain subject. Yes, it is a vehicle for you to put across ideas and to discuss various things, but it also gives people the opportunity to actually learn more about you as an individual or you as a business.
Take this blog for example. So far we have covered a number of different topics that we hope have been interesting to you and perhaps you have found a lot of the information to be useful in some way or educated you in a topic that you did not know much about. Now look at the role that has been played here and the relationship that has been created between blog and yourself.
This blog has been designed to educate and to discuss various aspects of web design, social media, Internet marketing and anything else connected to our areas of expertise. You as the reader picks up information as to the importance of various things not only for your website, but your business and it allows you to work out if it is something that is beneficial to you.
The idea is to generate some discussion even just within the reader and to make them think about what it means to them and what they should then do to enact upon the information that they have just read. Was it purely entertainment? Even those kinds of posts can be beneficial if you read between the lines. Was it on a specific point that can be applied in any way to your business? Is it dealing with something that you have thought about or should think about for your business? A blog post is more than just reading an article in a newspaper as there is always a lot of thought goes into it in order to make sure that it does actually deliver on something for the reader, so it is never just the inane ramblings of an individual, well, at least when you are dealing with a business blog.
From the business point of view
Now look at it from the perspective of your business if you were running your own blog. This gives you the opportunity to put across your opinions, although they should never be controversial, ideas, and thoughts on pretty much anything, within reason of course. It allows you to discuss new products, new marketing ideas, industry related news that you feel may be interesting to your customers, or to even just answer questions that you may have been asked.
The main thing is that it gives you some space outwith your website to discuss things in a controlled and structured manner that may very well lead to new customers or clients deciding to use your services and surely that can only be a good thing? However, you should never see your blog as purely being a sales tool as that is wrong. Instead, it is your chance to show your customers and clients that you are a company that is active, is aware of what is going on, and one that actually interacts with people rather than appearing to be distant.
A blog helps from a marketing and SEO perspective
Finally, we should also mention that blogs can be useful from an SEO perspective and linking to other blogs, if it is hosted on its own away from your website, can be a wonderful way of getting quality backlinks that are loved by the search engines. Of course, this is something that your web designer or SEO specialist can deal with, but search engines love to use what are seen as being authority sites and blogs are currently the flavor of the month in that respect. In other words, having a blog can lead to an increase in organic traffic to your website. If more people are reading your blog and checking out what you have to offer, then it can easily lead to an increase in your turnover and surely that is something that no business can do without?
What we are basically saying here is that a blog is not just for personal use, but it can be an extremely useful tool for any business. It gives a better link between business and customer and is appreciated by clients as they can see that it is not all about selling, but also about discussing industry news that may indeed be useful to them.
A blog gives an interesting platform for both sides to discuss various topics and considering all it takes is some time to write an interesting piece, then is there anything to lose by not having one?